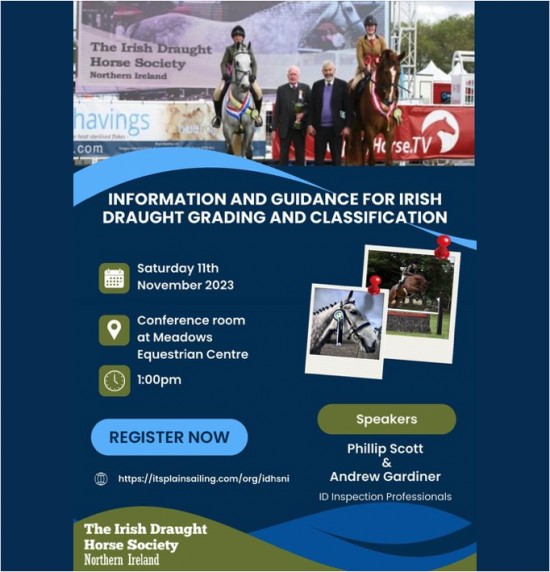 Exciting announcement! We are delighted to announce the launch of our first information and guidance session for Irish Draught Grading and Classification. Register by clicking the link above.
The Irish Draught Horse Society Ltd Northern Ireland
The Irish Draught Horse Society Ltd of Northern Ireland represents the interests of Irish Draught horse breeders, producers and enthusiasts located in Northern Ireland.
To promote the Irish Draught Horse

To ensure the breed continues for further generations

To represent members views

To market the Irish Draught Horse

To run a National Breed Show

To trigger a review of the inspection processes and administration

To conduct breed-specific training

To ensure the preservation of out-cross bloodlines and retain genetic diversity, without damaging the quality and standards of the breed
We believe that the Irish Draught Breed is an integral and valuable part of the Irish Sport Horse industry.
The Irish Draught Horse is a versatile, powerful and athletic animal with substance and quality.
It has a pleasant head, good bone and a short shin, good spring of rib, strong loins and hindquarters and an active powerful stride. Known for its good temperament, docility and willing nature, it has a robust constitution and is inherently sound.
The Irish Draught horse is a foundation breed that, when crossed with other breeds, will produce all types of leisure and performance horses.